Hi, my name is Daniel Gilmore
I have been teaching for 20 Years in various Primary Schools where I have also co-ordinated music. I have a First Class Hons Degree in Music and have decided to focus my teaching now on running Music Workshops, extra curricular activities and music lessons which I enjoy and find very rewarding.
I have an up to date CRB and also Public Liability Insurance. On this website you can find out about all the exciting musical activities I organise for schools and theatre groups. Also included is information about the private instrumental lessons I teach.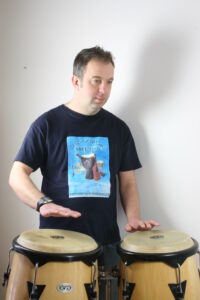 I would be happy to visit your school and discuss my work in more detail, and also can give a demonstration in a School Assembly.
All workshops can be tailored to meet your schools needs, age ranges and specific topics.
These workshops really bring learning to life.
Testimonials
'Daniel did a fantastic piece with the young people at WMCS Youth Company for our Musical Mosaics show. His workshops with the young people, whether drama or percussion always go down a storm. His lively and imaginative approach has just the right appeal' WMCS
'Daniel has worked for me giving Stomp, Australian and African workshops….Daniel is a true professional, brilliant with the children with a vast wealth of musical knowledge and resources from a diversity of cultures and topics – a real inspiration – my children came away buzzing and wanting more…' Sally Wagter, Interactive Music Club…
'Daniel delivered these workshops in a very professional and experienced manner, interacting well with the young people. The Feedback we received from these workshops by both staff and young people alike was very positive'
The Beat Project would have no reservations in using Daniel again and look forward to hopefully working with him in the future.
Daniel Gilmore B.Ed Hons Music
I am also on the Local Offer, here are my SEND Questions.
Please contact me for more information.