JUNK PERCUSSION MUSIC WORKSHOPS 
      This Workshop combines movement and music and is excellent fun for everyone.
It involves playing a wide range of everyday objects, and developing a real feel for rhythm. Work with brooms, dustbins, glasses etc.
In the workshop we work on putting together a complete piece of music to perform to friends and parents.
I also teach some simple body percussion which can be incorporated in to the routines.
There is a strong link to Science 'sound topics' and also 'recycling'.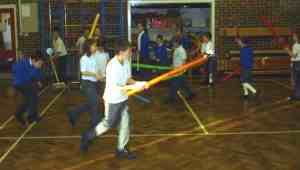 Please contact me for more information.